MeetingEye 400 is an all-in-one intelligent video conference bar designed for small-size meeting rooms. Combined with built-in automatic lens cap, the ultra-HD 4K camera ensures both fluency and security of meeting.The adapted AI technologies (face detection, sound source location, voice tracking etc.)  also help elevate the working efficiency by providing smarter meeting experience. With all-in-one design and easy deployment, the brand new MeetingEye 400 renders every conference efficient and enjoyable.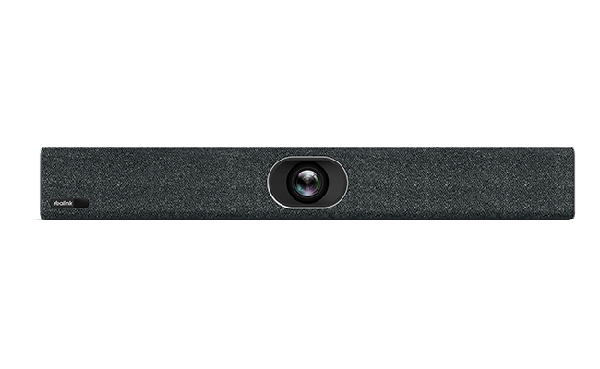 VC 200 is an entry –level smart video conferencing endpoint with Ultra HD 4K Camera,103 super-wide angle lens and 6 Beam forming Microphone arrays for direct voice pickup and noise proof technology, VC 200 brings ultimate  audio & Video experience. 6-in-one Design which integrates codec/camera/microphone/bracket/WI-FI/Bluetooth, Wireless presentation supported, and two-cable-deployment, Yealink VC 200 integrates everything you need for small and huddle rooms.
Yealink VC210 Teams Edition, an affordable video collaboration bar designed for huddle and small room. With Microsoft Teams built right in, the device provides a simple and smooth Teams meeting experience with the premium video and voice quality, either working with a touch or normal display.
With built-in Microsoft Teams, the highly integrated VC210 works with Yealink speakerphone CP900 to deliver a native small-space Teams meeting experience by delivering plug-and-play simplicity, premium audio and video experience.
The Yealink MVC II series is a bundle video solution for Microsoft Teams Rooms (MTR) that includes everything you need to interact, connect, and collaborate with internal and external users seamlessly and intelligently, covering every scenario from small to extra-large spaces.
With easy-to-use devices including the UVC30 120° 4K camera, CP900 HD full duplex speakerphone, MTouch II, and MCore mini-PC, the Yealink MVC300 II video solution is a dedicated MTR system that meets the requirements of focus and small meeting rooms.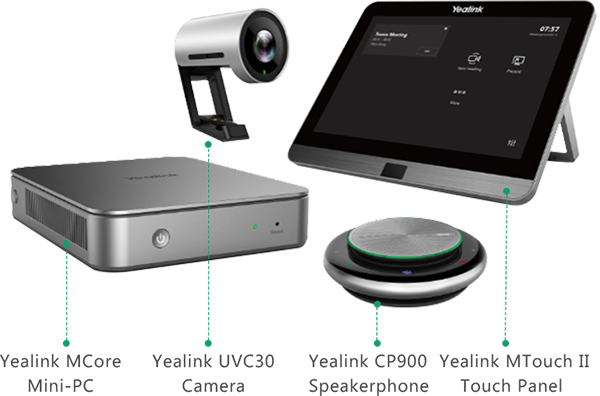 The Yealink UVC40 is equipped with AI technology, including Auto Framing and Speaker Tracking. With the 133° wide-angle lens and Auto Framing, the UVC40 can recognize the number of and the position of attendees, framing everyone smoothly in the most appropriate view even in small spaces. The Speaker Tracking technology with 20MP camera brings a vivid face-to-face meeting in a high-definition visual experience. In addition, with an electric lens cap, the UVC40 camera can automatically turn on and off with the aid of its detection function, securing the privacy for your MVC400 conference rooms.
Yealink ZVC300 Zoom Rooms Kit includes an UVC30-Room USB camera,  the uniting microphones, speaker and meeting console all in one with CP960, and the MCore mini-PC, all of these make it perfectly suitable for huddle and small meeting room. Integrating microphones, speaker and meeting console, the Yealink CP960 conference phone supports one cable connection in conference table, eliminates the need for a traditional USB cable from the TV area to the conference table area, greatly simplify deployment
UVC30-CP900-BYOD Meeting Kit
The Yealink UVC30-CP900-BYOD meeting kit is a dedicated solution for small and huddle rooms that ensure an excellent video and audio experience at a low cost. Maximally optimizing the user experience via one cable, this meeting kit not only works easily with plug & play, but also provides you with the freedom of having all kinds of UC meetings, including Teams, Skype for Business, Zoom, etc. Additionally, it is capable of charging a laptop via a Type-C cable, ensuring the endurance of your own laptop.